I led the interaction design and interface design for the MVP of an AI-based wealth startup which
helps people fulfill
their financial goals.
The founders of Wealth42 recruited me for a contract project to design a MVP.

A fast-paced, great learning experience working cross-functionally with developers and founders to ship a product.
Secondary Research
Information Architecture
Interaction Design
UI Design


Adobe XD,
Marvel,
Google Suite
A group of builders aiming to create India's first Personal Finance OS – a suite of integrated tools that can help you manage your investments, expenses, loans, and financial goals – all in one place.
Project Goal:
To design and develop a consumer product experience (MVP) that does goal-based financial planning while personalizing investment objectives.
Conduct usability testing to assess business viability. Pitch business to the Y Combinator - Startup School, SF 🇺🇸
Project Impact:
Testing the MVP helped Wealth42 reevaluate its value proposition. It saved the team time and money. They steered away from B2C and shifted their focus to working toward B2B solutions.
Wealth42 received a grant of ₹11.72 Lakhs ($15k) from the Startup School, Y Combinator, 🇺🇸
Investing is difficult for people to wrap their heads around. Especially in India where wealth generation happens through traditional investing methods such as gold and real estate.

Most people rely on advice from
loved ones during financial planning.

Whereas millennials who have a higher risk appetite cannot make financially-apt decisions due
to a lack of knowledge.

assets are equities within an Indian household wealth in December 2020
Demat accounts opened
in January 2020
invest in equities out of India's 13.6 Billion population only
wealth management market in India in 2018
How might we

simplify

goal-based financial planning and help people create wealth?
Get familiar with the world of investing
Existing user flow used by competitors
Onboarding → Profiling → Recommendations → Invest



Most Robo-Advisors take either
of the two approaches
1. Goal-based advice
2. Direct plan based advice
Key focus on understanding the current experience for individual investors primarily on existing AI-based financial planning platforms.
Speaking with subject matter experts
Quick conversations with two mutual
fund advisors to better understand
the bottlenecks known to experts.
Defining who we
are designing for
OPPORTUNITY & USER PERSONA
Aligning user needs
with business goals
After countless discussions
with the stakeholders...
Retained the task flow used by other robo-advisors to maintain familiarity.
Onboarding → Profiling → Recommendations → Invest
Organizing the flow of information and tasks
Conducted testing and discovered that all 4 users preferred Option 2
[Three-step onboarding]

This was in contrast to our initial hypothesis that a one-page scroll would comfort the user to screen the questions before choosing
to answer them.

Option 1:
One page onboarding

Option 2:
Three-step onboarding
Iterations for the first touchpoint TIMELINE
once the user completes onboarding:


🔴 What didn't work
🟢 What worked
MID-FIDELITY WIREFRAMES + PROTOTYPING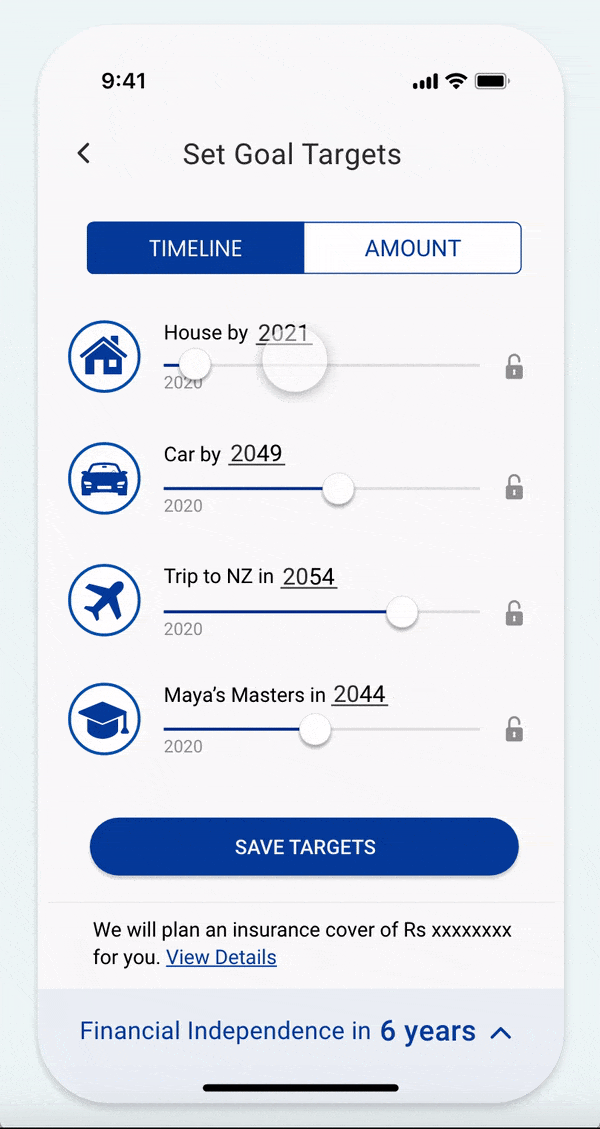 The Minimal
Viable Product
Painpoint:
- Complex onboarding process.
- It's difficult to know the implications of the choices offered.
Resolved:
Minimal onboarding flow with simple questions about income and expenses.


Painpoint:
People haven't fully articulated what their goals are.
Resolved:
The user is guided by visuals as it allows for recognition rather than recall.



Painpoint:
People have multiple goals in life that they intend to plan towards.
Resolved:
An interaction that assist user in viewing their goals with respect to each other based on the target date or amount they set to achieve it.

Also has a locking feature, which lets the user view how other goals predictability varies once a goal is locked.



First touchpoint on completing the onboarding process.

The app reads your bank statements to track your inflows and outflows.

Prompts you to invest a calculated amount from the salary you received that month

Send bills reminders for timely bill payments.
Painpoint:
People have multiple goals in life that they intend to plan towards.
Resolved:
Track progress of all your goals within one dashboard.


Reduced taxing information
like graphs down to one

Cleaner information display using cards on important monetary information - investments, liabilities
Tips and tricks + prompts to help the user complete their profile for the AI to improve its recommendations to you.

The initial timeline/ amount based targets set for each financial goal helps the AI technology to choose the right funds for the user to invest in.
Reflections & Takeaways
How product strategy constantly evolves while working in a cross-functional team.

Balancing the needs of founders who were also the developers was important. They switched professional hats often during the discussions. This often lead to going back and forth in design strategy and decisions.
Quick ideation and dirty testing is key to designing an MVP in time.

At the time of the project, I wasn't aware of design sprints and Lean UX. Had I known, I would have tested with participants multiple times and let that back my decisions during the iterations and discussions with the stakeholders.